The cloud synchronization feature allows you to upload device data to cloud storage or, conversely, download data from cloud storage to a device, enabling you to access and edit data on one device from another.
* Currently, cloud synchronization is only supported for Google Drive, and additional cloud services may be added in the future.
* Please make sure to perform data synchronization in a stable network environment, such as Wi-Fi.
* Due to network conditions or device errors, data may become corrupted during synchronization, so it is recommended to back up your data before the initial synchronization. Please refer to the data backup instructions.
How to backup and restore your data
Connecting Your Account
Tap the settings icon at the bottom left of the app to open the settings window.
Tap the 'Sync' menu.
Press the button located to the right of Google Drive in the 'Manage Account' section.
Pressing the button will bring up the Google Drive account login window.
Log in with the Google Drive account where you want to store synchronization data.
If you are linking the account for the first time, a window will appear requesting permissions for the Flexcil app's Google Drive account. Please check "Select All" to enable the synchronization feature.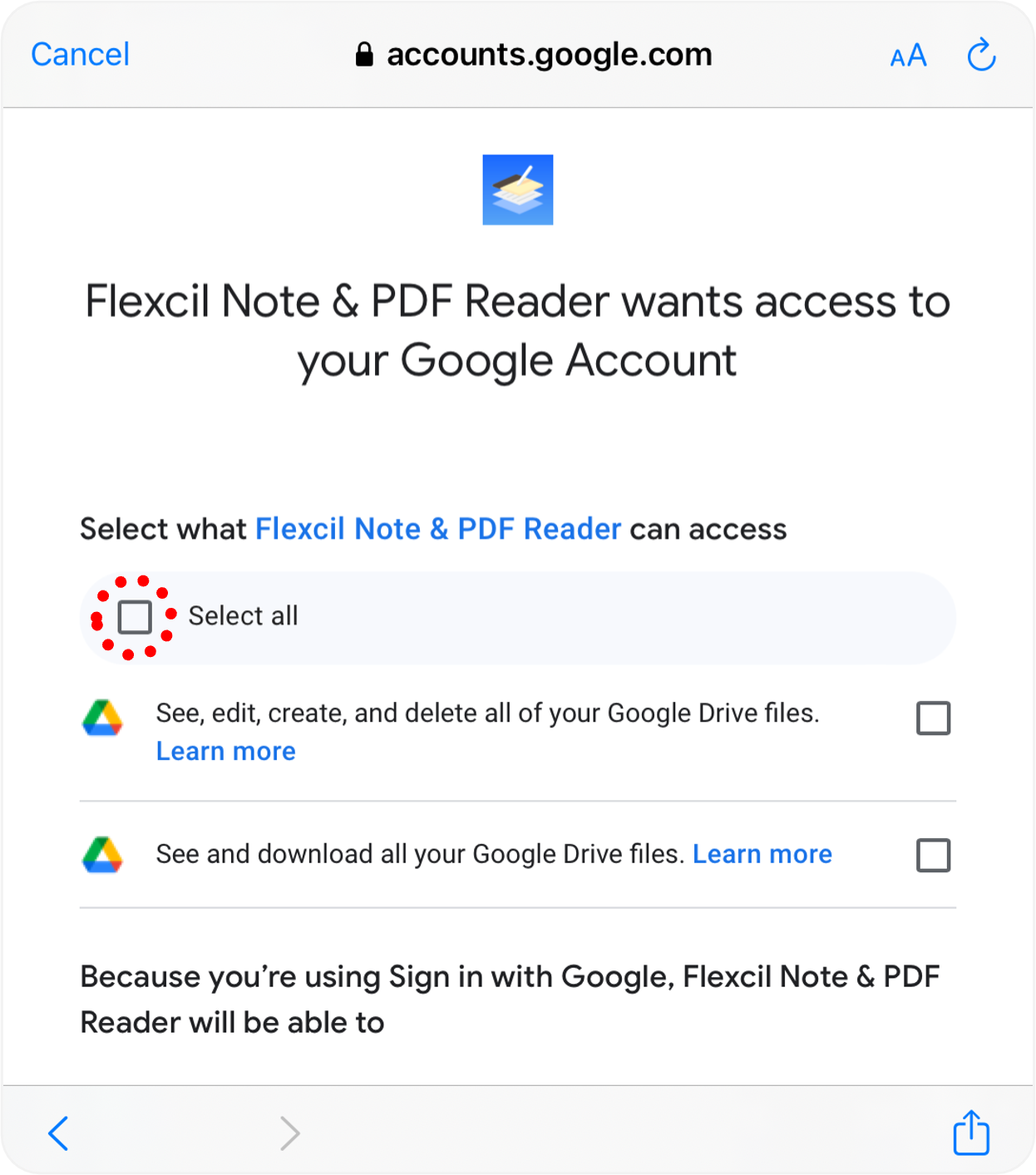 Performing Data Synchronization
For the initial synchronization
If there is no synchronization history, synchronization will start automatically when you link the account.
For cases with previous synchronization history
If you have previously performed synchronization, the following options will be displayed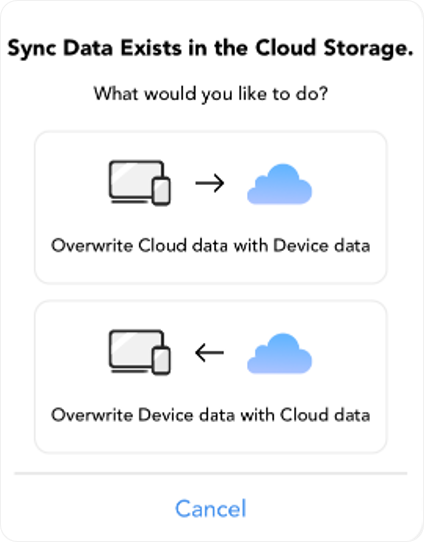 Overwrite Cloud data with Device data
Data on the current device will be stored in the cloud storage. If there is existing synchronized data in cloud storage, it will be deleted and replaced with the device's data.
Overwrite Device data with Cloud data
Synchronized data from cloud storage will be stored on the device. The device's data will be deleted and replaced with data from cloud storage.
Synchronization Options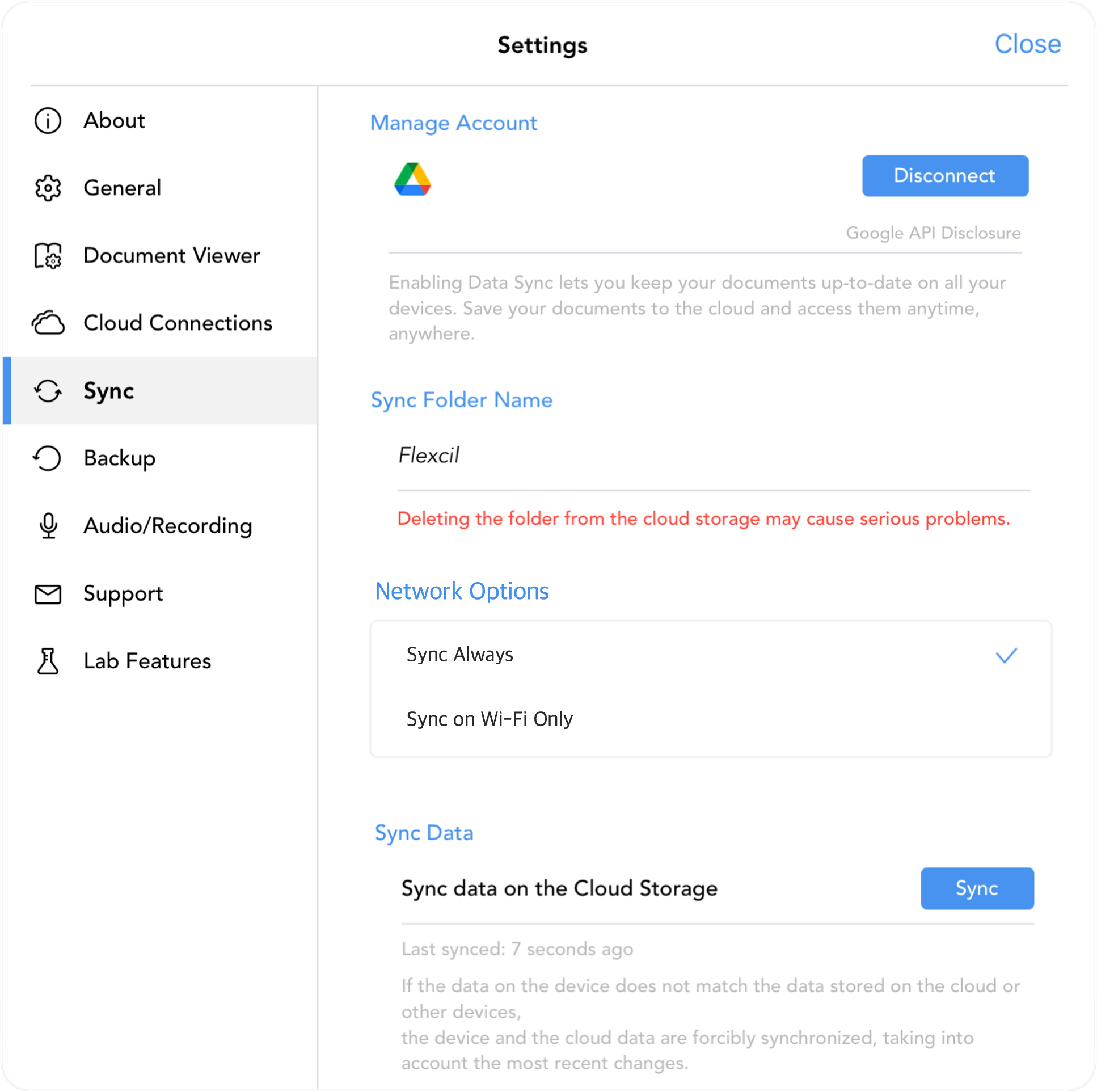 Manage Account
You can unlink synchronization. Press the 'Disconnect' button to unlink synchronization.
Synchronized Folder Names
You can check the names of folders with synchronization data on cloud storage. Deleting these folders from cloud storage can cause synchronization issues.
Synchronization Settings
※ This option is only displayed on devices that support connections other than Wi-Fi, such as LTE models.
Always Synchronize
Synchronization will proceed even when Wi-Fi is not connected.

Synchronize Only on Wi-Fi
Synchronization will only occur when Wi-Fi is connected.

Data Synchronization
You can choose to synchronize using the most recent data if there are discrepancies between device data, cloud storage data, or data on other devices undergoing synchronization.
Disabling Synchronization
When you disable synchronization, a popup will appear with the following options.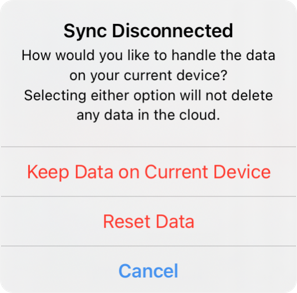 Maintain Data on the Current Device
Synchronization will be deactivated while preserving data on the device.

Clear Data
Data on the device will be completely deleted.
Frequently Asked Questions
Documents in the document list are displayed in gray and do not open.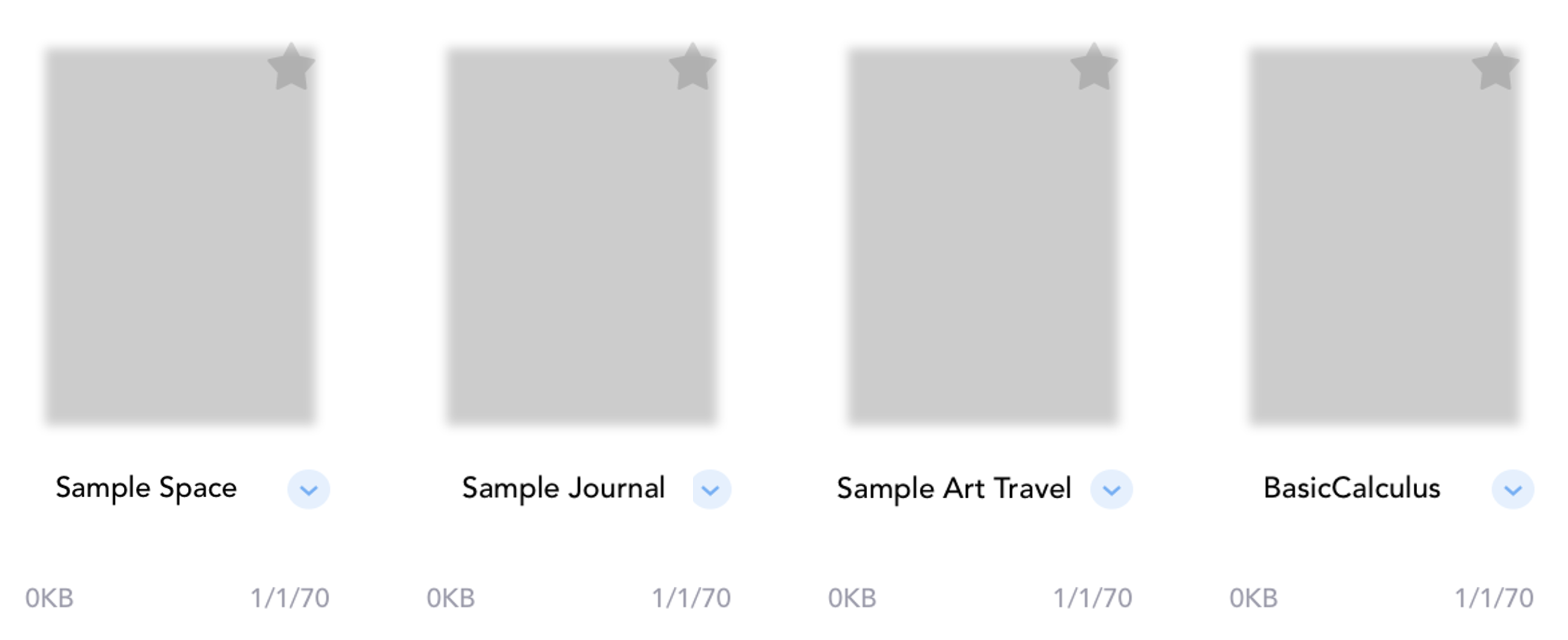 For the causes and solutions to the issue of synchronization documents not being displayed correctly, please refer to the following document.
An issue where documents appear gray in the document list and cannot be opened
Does synchronization automatically occur when updating documents after synchronization is complete?
Synchronization automatically occurs when inputting data such as images, text, handwriting, or when completing voice recordings on the device. Synchronization occurs at the following moments:
When input of objects like images, text, handwriting, etc., is completed.
When voice recordings are completed.
When loading or deleting documents.
When adding or deleting pages.

What happens when there is insufficient device storage during synchronization?
Synchronization will be interrupted if there is insufficient remaining storage on the device. Other conditions under which synchronization may be interrupted include:
Insufficient remaining storage in cloud storage.
Loss of network connection on the device.
App crashes during data upload.